Last news...
Birth and reservations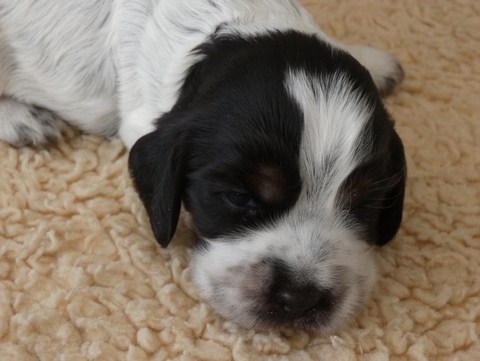 Litter of Grace and Iccios was born last tuesday, September 10. All puppies are blue, 2 boys and 3 girls. Mum had difficulties to begin her lactation, so we had take out baby bottles to help her...
Reservation side, Pachyta (Jaala x Leaky) and one of tricolors of Heggelia have found their fammily, other tricolor girl is finally available to be reserved... Page of litter is now online, with first individual photos.
Some news...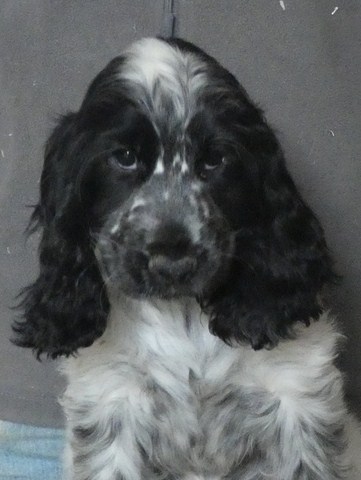 August was busy, very busy ! A big project ask us a lot of our time and our energy, but it's worth, I will tell you about it soon...
During this time, puppies are growing well and find their family progressively ! Still available :
- Pabbi and Padru, blue boys of Nahima and Lendack (ready to go),
- Palaos, blue boy of Moorea and Navajos (ready to go),
- Pachyta, blue girl of Jaala and Leaky (ready to go),
- Pikelot, Prat, Phoenix and Pinette, blue girl and boys of Mabea and Lendack (to reserve, they will go since September 25)
Litter of Heggelia and Leaky was born on August 31, 4 pretty girls : 2 blue and 2 tricolor, the blue are available to reserve (I am contacting people who wanted a tricolor).
(in picture : Pabbi)
Photos and reservations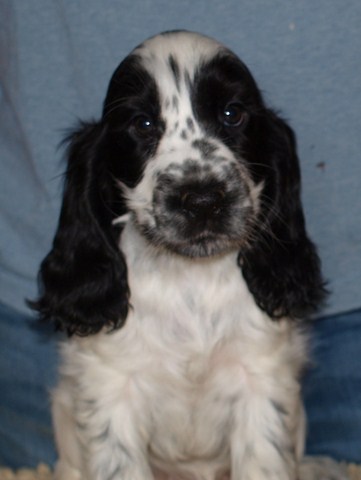 New photos are published on pages of litter of Neila, of Nahima, of Moorea and of Jaala, page of litter of Mabea is online !
Perle (Irish x Lao) has found her family, she will join them at the end of August, two puppies of Nahima have found their family too. Remain blue girls, black and white girl, available at once, blue boys, black and white boys, blue girls to reserve, available late August - early September...
(picture : Padura, daughter of Neila and Lendack, available)
Finally news...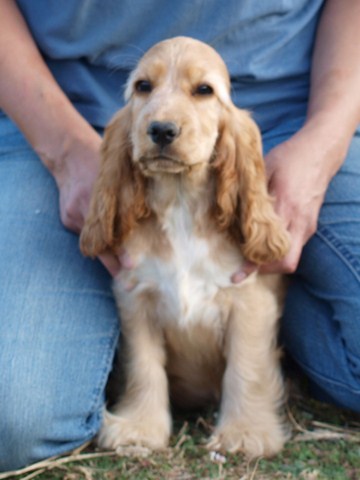 A lot of late for this website updating, I'm sorry for that but... girls are very hurry to make their babies, I can not keep up !!
Since birth of puppies of Neila, we have seen birthes of those of Nahima on June 17 (6 babies, blue or black and white), of Moorea on June 30 (7 babies, blue, liver roan and liver and white), of Jaala on July 06 (only 3 babies, orange roan or blue) and to finish, those of Mabea last tuesday (7 babies, all blue)... Well, motherhood is full to crack !!
There are several available puppies : red girl, 3 months old (Irish x Lao, in picture) and blue grils, 2 months old (Sankie x Gordon), all ready to leave with their new family, and others younger to reserve : blue boys or black and white boys (5, 3 and 1 week(s) old), blue girls (5 and 3 weeks old), not to mention those who have juste been born. Do not hesitate to contact us...
Birth
Puppies of Neila and Lendack are born on Monday, June 3 ! One boy and three girls, all blue, are growing quickly... Sadly, always not tricolor...
Puppies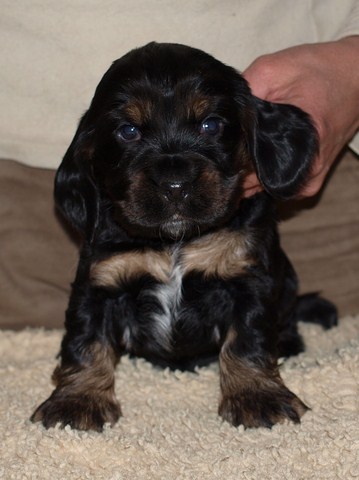 New photos of litters have been taken at the beginning of this week ! And... I suddenly realize that I have forgottent to announce you the birth of Sankie's litter !! They were born on May 7th, 6 big (big !) babies, in fine feetle, Sankie should like parity because there are 3 boys and 3 girls, all blue.
And, I annouce you too that 2 new litters are expected in June ! Young Neila and Nahima are pregnant of beautiful Lendack, blue and tricolor puppies expected (hoping to have more luke than with Sankie which didn't have any tricolor puppy...).
Dog Show of Rennes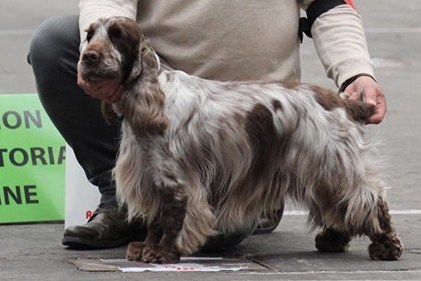 Last weekend it was the double dog show of Rennes. I was present only for confirmations (Narva and Okoa are confirmed, soon their presentation pages), but kennel was very well represented !
Saturday, CACS : Mactan was 1st excellent CACS in open male (in front of a Leaky's son and a Buzz's son) and Best of Opposite Sex ! Men'hot was 2nd excellent in open female.
Sunday, CACIB and Special of breed : Myéné (Billy) was 1st excellent CACS in open male, then CACIB and Best of Opposite Sex ! Oltra (Ondine) was 4th excellent in young female and was confirmed too.
Big congratulations at all and big thank to lead away the name of kennel in dog shows !
Work !...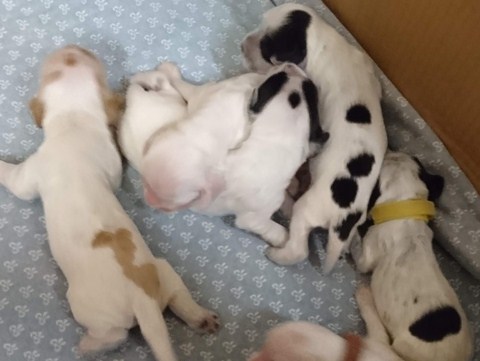 A little late in news because of a lot of works these days !
Harmelle gave birth (by caesarean) at her only daughter on April 19. A beautifule blue girl, with a big size, she grows quickly (normal, she's alone) and mummy Harmelle smolds her well !
Following, Halenia gave (with difficulty) birth at 12 puppies on April 21 ! A long birth, tiring, which was sadly fatal to 4 puppies... The 8 others, after a difficult beginning due to mummy's fatigue (we had to help her with baby bottles), are now well ! 3 blue boys, 2 white and orange boys, 2 blue girls and 1 white and orange girl are the object of all our attentions !
Reservations begin with people who are on waiting list, remaining availabilities will be published as soos as possible.
They are here !...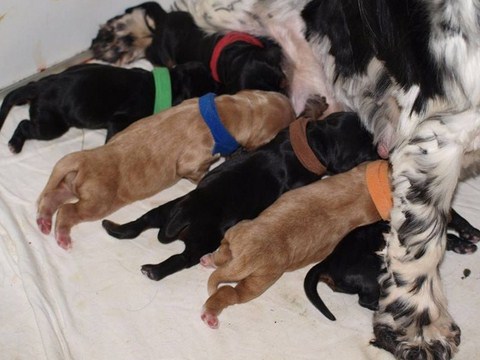 First pupiies of the year, born of Irish and Lao, arrived last saturday ! They are 6 : 2 black girls, 2 red gilrs and 2 black and tan boys. They all are well and mummy Irish jealously broods them.
About reservations, at this moment, only the 2 black and tan boys are available, girls are potentially "pre-reserved" (reservations are being confirmed).
Harmelle and Halenia are now in nursery, we are expecting now...
Dogshow of Angers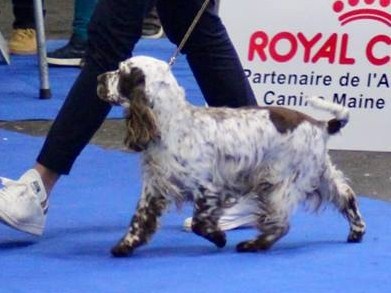 We were not present at Angers (because of "projects" break) but Marellek were there !
Nessy Ar Ti Marellek, at Sandrine Peslier, was 1st Very Good in young female class, with good comments and many encouragements from the judge,
Leitha Ar Ti Marellek, at Baptiste Delahaye, was 2d Excellent in open female class, and RCACS !
Finally, "a daughter of our doggies" was present too, Nespress'hot, at Baptiste Delahaye, daughter of Leitha and Lao, was 2d Excellent in young black female class.
Congratulations to all of you !
And a last one...

Halenia met beautiful Jack (Clicaper's I Want You Back) their union is fertile ! Puppies are expected around April 20-25, blue or orange roan, beauty and hunting bloodlines, a beautiful marriage in perspective !
Sadness again...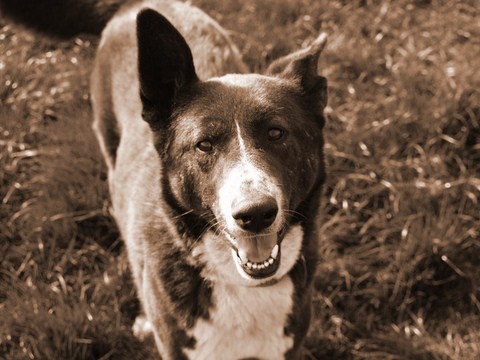 Last friday, I have to say goodbye to Chedvah. My beautiful "black wolf" gave me so much, taught me so much, we shared so much, the emptyness is immense... Have a good trip my beauty...
Puppies !

First puppies of the year will be solid ! From the union of Irish and Lao, they will be born in mid-April. Black, golden and black and tan puppies expected, FN and PRA clear, beauty bloodline with strong hunting instinct on mum side.
Be careful, for amateurs, they will be the only solid puppies of 2019, all others marriages are planned to give parti-colors puppies (blue, tricolor, orange roan, etc...). Don't hesitate to ask...
Sadness...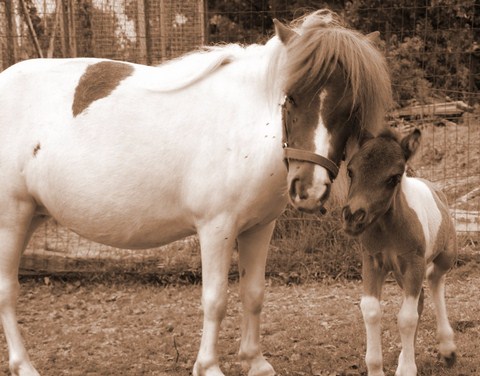 Breeding, it's great joys, but great pains too... Délice, my little Délice, my little wild, you were just 6 years old, your second baby was near term... You were born at home... You were so young... This damn peritonitis didn't leave you any chance, you went out this friday, taking your foal with you to the stars... Have a good trip my beauty...
As Poly and Queen have aborted this automn and this winter, there will not be any foal in 2019...
(Picture of Délice with her foal Hope, born in 2017)
Newcomer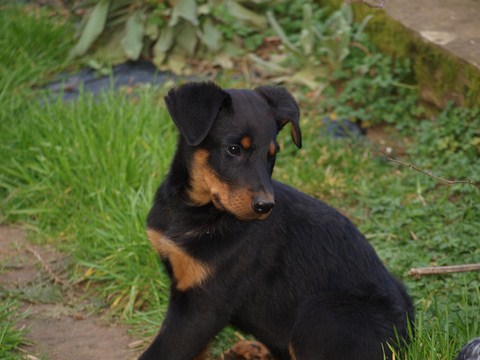 A new recruit arrived last weekend : Obo de la Cité des Comtes, gorgeous big baby beauceron ! He will be future watch dog of kennel, in charge of protect, not sheeps, but cockers !! Welcome to you, baby Obo !...
February will be busy...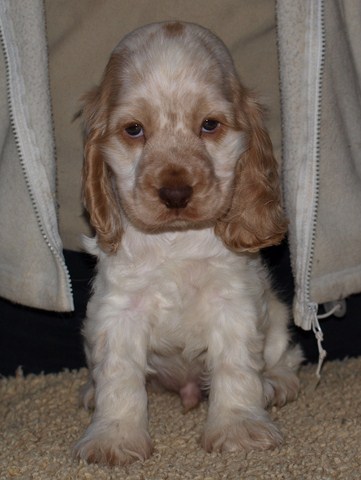 Odéon (Hella x Iccios) has joined his family next weekend. He who was only son, he has now a little brother and a little sister, humans ! Beautiful life to you.
Since the end of January, girls finally woke up ! So they are almost all in heats at the same time !... A lot of work so, because I have to keep on eye to ovulations to marry at the good moment. All will not married but a certain number... Now, we have to wait a little month before first pregnancy ultrasounds and to announce our future wonders !
A little newcomer !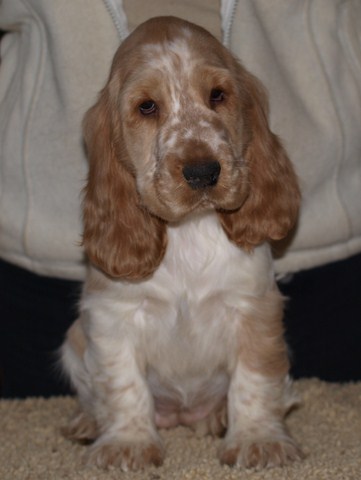 A little newcomer was arrived yesterday at kennel ! Orca du Kreizker was born at my friend's, Frédrique Petit. Not totally foreign, she is daughter of Lily, alias Novaya Sibir Ar Ti Marellek (Grace x Leaky), and Neizhan des Landes Sauvages. Miss quickly adapted, she found new friends with Otilia and Only (Houna x Lendack) and Odéon (Hella x Iccios), all this little people puts a nice animation in nursery !
it continues...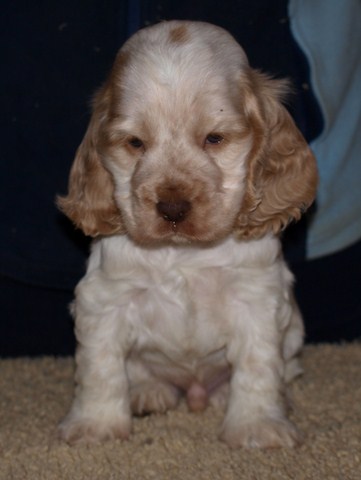 Okou, renamed Eustache, left on sunday for a long trip for Belgium ! Beautiful life for you, my boy, it will be a pleasure to see you again with your owner during your next holidays in Brittany...
During this time, Odéon (Hella x Iccios) continues to grow. First visit to the veterinarian, he was as good as gold. And now, he is (almost) a big, he's going outdoor with others puppies !
Puppies are leaving...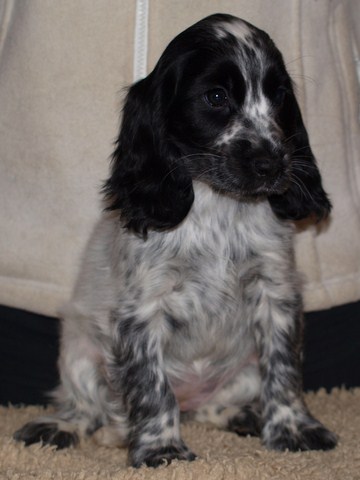 Puppies of Houna and Lendack are leaving with their new family : O'Joy (in picture) last week, Ounah, Ovny and Obion last weekend. Okou will follow next weekend, and "little Only" will stay with us until early February.
During this time, gorgeous Odéon (son of Hella and Iccios) continues to grow !...
A happy end of year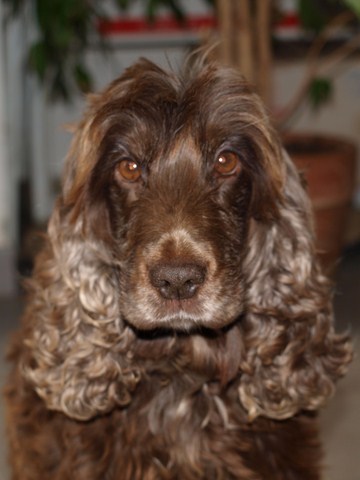 A happy end of year for Fairy who has found her retirement home ! She left this December 31 and has already adopted her new owners ! I wish so much lucky to my other retirees who search their new home : Goria, Chipie, Hoon, El Hobo...
On puppies side, they all found their family ! Leavings are planned throughout January and until mid February. We are expecting now heats of girls to prepare future litters...
Happy new year !