Who am I ?
The dog virus, I had to contract it just after my birth : our red cocker, Trouscotte, watched carefully on my cradle. I learned to stand up by holding on her long ears (sorry my love !), I made a lot of mistakes with her puppies and she taught me good maners with animals. Following her death, two male cockers were succeeded (Starsky, blue tricolor, and then Iazou, chocolate tricolor), two completely opposite characters (a dominant and a submissive). But all had in common personality, kindness and "clowning" of the cocker. They all infected me with this terrible virus : the acute cockeritis !!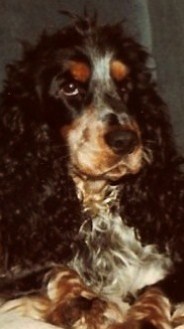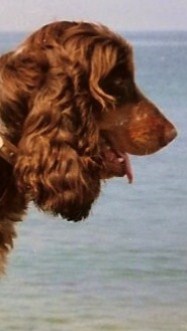 In the midst of all the specialized magazines that I devoured every month during my childhood, a splendid dog struck me by its look, its physionomy : it was Australian Shepherd, just arrived in France. Coming to adulthood, at the time of my first dog's choice, and despite my love of cockers, I made contact with australian shepherd breeders in my area. A discussion with one of them convinced me : character, needs of this dog was made for me, for my life in countryside, in the middle of horses, for my hikes. The next day, I found another breeder with a 4-month-old red merle, Vanille. Life with her has confirmed all my hopes in this breed. Vagaries of life have separated us. But soon, another australian came to fill the emptiness she had left in my life : it was Calypso (Calyp'So Nice des Bergers de l'Outback).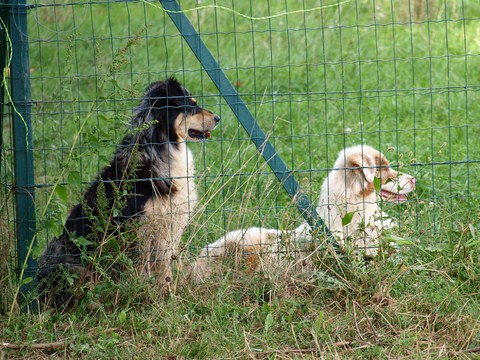 Always attracted by breeding, I waited for the thirties to start and change my life to finally realize my dream.
Today is the long-awaited beginning of a beautiful adventure with my dogs... The herd grows, first births arrive, first joys and first anxieties also. But above all, today, I live my dream of having my dogs around me, happy, to work with them, to watch over them and to make sure that I bring them as much as they bring me with love, joy, fidelity...
2011